Meet the Booyah Stik – your all-in-one solution for enhancing flexibility, strength, and mobility. Engineered to cater to individuals of varying ages and abilities, this versatile tool is designed to promote holistic health and wellness.

Whether you're recovering from an injury, striving for fitness milestones, or simply aiming to maintain flexibility and functionality, the Booyah Stik is your go-to exercise companion. Its diverse benefits encompass fostering flexibility and mobility, boosting stability through balance exercises, amplifying strength across your lower body, upper body, and core, and refining posture and alignment with targeted spine health movements. Experience relief from muscle tension and tightness as you utilize this innovative tool to massage sore muscles, facilitating relaxation and rejuvenation. Crafted with meticulous attention to detail, the Booyah Stik measures 60 ¾ inches in length and approximately 1 ¼ inches in diameter, weighing 1 pound and 14 ounces. Constructed from PVC furniture-grade pipe, embellished with rubber end caps (containing latex), it offers a harmonious blend of durability and comfort. Embark on your journey to improved wellness with the Bob and Brad Booyah Stik – a catalyst for overall transformation and well-being.
Loading...
Bob & Brad Booyah Stik
Crafted from PVC furniture-grade pipe with rubber end caps, the Booyah Stik is durable, lightweight, and easy to handle. Its length of 60 ¾" and diameter of approximately 1 ¼" provide optimal grip and versatility during workouts
Versatile Exercise Assistant
Suitable for individuals of all ages and abilities, the Booyah Stik serves as a valuable tool for achieving fitness goals, recovering from injuries, or maintaining flexibility and functionality
Alleviate Tension and Tightness
The Booyah Stik's massage capabilities help relieve muscle tension and tightness, aiding in recovery and relaxation
Improve Posture and Alignment
Experience better posture and alignment through dedicated spine health movements, leading to improved overall body mechanics
Utilize the Booyah Stik for a wide range of exercises that target your lower body, upper body, and core, helping you build strength and improve stability
Enhance Flexibility and Mobility
Unlock your body's potential with the Booyah Stik's stretching exercises, promoting increased flexibility, mobility, and range of motion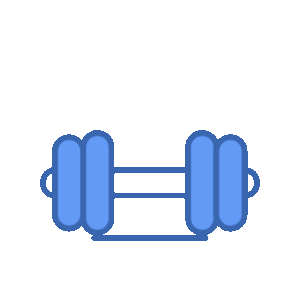 Loading...
Real results, real people
I am so thankful to have recently found Bob & Brad's videos and products! I purchased this Booyah stick as recommended for stretching, and it has been super helpful. And I'm very happy to support their on-line video services! Please thank them for me!
I needed something to keep me stable when exercising from my stroke. This works perfect. I don't have to be next to a chair now. Also watch the videos on how to use the stik. Genius.
This is well designed, fits in my hand very nicely and provides for a good grip, perfect size; and it has helped me greatly in recovering from rotator cuff tears. Very glad I have and it's been so helpful!
Can't really find the words to express how happy I am with this product…Thank you Bob and Brad!
Bob and Brad hit it on the money!!! To those guys who say go to the big box store and get Wood dowels or PVC pipe 🤔 good luck with that !!! Hours of looking for the correct size and rubber caps that are not the correct size. I say $50.00 bucks is cheap for free physical therapy YouTube videos. So I love giving back to the most famous PT guys on the internet...Bob and Brad ! Thanks for the great invention.
Lightweight but sturdy, perfect for stretching and walking support. Definitely a great addition to your Therapy/exercise arsenal.
This offers the stability I need to do several different types of exercises. Plus, you can do the exercises on YouTube that the docs have on this.
Long enough for my arm span (I'm 5'8"). Nice rubber ends. Has a slight rubber odor that seems to be dissipating with each passing day. Good diameter for holding in my palm. Nice instruction booklet included shows some ideas for using it. Using it every day so far to stretch out my back (I work at a computer all day) and it seems to help with the aches and pains from sitting at a keyboard for hours on end.
It looks nice and is very well made, I didn't mind the financial expenditure. I thought it came in 2 pieces but not so with mine. I've only used it for my PT as a result of pelvis fracture. I need stability while performing one legged toe touching. I did however try to use it as a walking stick on a fire road in the foothills by my house, I don't recommend it, stay on solid surface's. I do plan to use it for shoulder stretching caused by another injury, this getting old sucks.
This offers the stability I need to do several different types of exercises. Plus, you can do the exercises on You Tube that the docs have on this.
Look I could just use a broomstick or pvc.. but it's made this way for a reason. The fiberglass or acrylic it is made from is strong and light. The rubber on the ends didn't mark the floor or carpet, not did it slip unexpectedly. Great tool for stretching!
Grip & forearm strengthener
Grip & forearm strengthener
Grip & forearm strengthener
Grip & forearm strengthener
Why Choose Bob & Brad?
Crush Your Goals
Choose the Bob and Brad Booyah Stik for a trusted fitness experience backed by expert knowledge. With their YouTube channel dedicated to showcasing exercises and techniques, you can rely on their expertise and guidance to maximize the benefits of the Booyah Stik.
Watch and Learn
The Booyah Stik: Everything You Need to Know
3 Simple Daily Stretches That Can Heal Your Shoulder Pain
10 Minute Daily Back Program That Can Change Your Life (Physical Therapy)
The Booyah Stik: Everything You Need to Know
Bob and Brad's Shoulder Pain Stretching Program
Best Balance Exercise, Booyah Strong!